Yesterday's post I mentioned it was a "sick day" my throat was sore and my nose couldn't decide if it was stuffed or running. It was the sure sign of the cold I was hit with full-force later that day.
Today I'm headed to the doctor. My ear hurts, my head hurts, I can't breathe and I have a fever. OY! Did I mention I have to coach cheer leading tonight
and
it's picture day! This might get some people down...but not me! I'm thankful to be alive to get sick, I'm thankful that my immune system is healthy enough to fight off a cold. I'm thankful my kids are healthy. As any parent with kids will say I'm so thankful I'm sick and it's not my kids. It's true though, we parents hate to see our kids sick. Their poor bodies wracked with coughs, cheeks flushed with fever, it darn near breaks your heart, so while I'm not thrilled to be sick I'm thankful for so many other things that my cold and fever seem so insignificant.
I've been following a blog for about three years now.
Ashley's Blog Lilblueboo.com
has been a wealth of information for crafters everywhere. Her quirky sense of writing and photo journalistic tendencies suck you in and keep you coming back for more. She's an amazing creatively I'm not sure there's anything she's made I have been in awe over. And she very generously shares her knowledge in tutorial with the world. When I went to back to school I lost touch with my creative side for a while, I was just too busy. When the creative bug just got to be too much to resist anymore I headed over to her blog and was surprised to find out she had been through more than one person should have to go through...it was a day I spent reading backwards (as you know blogs post most recent first)
Her story is touching, heartbreaking, and full of hope. I hope you'll go over there and read it. If you don't want to, I'm gonna give you a run down of what she's been through since June or July...
1) miscarriage
2) father passed away
3) molar pregnancy which caused
4) operation to remove molar pregnancy--
5) which led to her almost dying from blood loss
6) which in turn meant to stop the bleeding her uterus has to be removed
7) Meaning no more children
8) The reason for the emergency surgery was that a tumor had broken through her uterus
9) Tumor was cancerous, a very aggressive form
10) chemo, chemo, more chemo
11) chemo didn't work
12) stronger chemo, chemo, chemo
13) Hair loss (check out her rite of passage video)
here
(oh bring tissues--it's very touching)
14) the stronger chemo...not working
15) back to the drawing board...stronger chemo on the horizon.
Through all of this in less than a year and her blog is never, ever, ever depressing or dismal. When her father died they found torn out devotional page, on his desk that read "choose joy" that's been her mantra ever since. And I've found myself taking it on too.
When I had a wee bit of a hysterical breakdown on the way home from training one day, because I was just so overwhelmed and was doubting if I could embark on this and take it on, I suddenly stopped wallowing in my misery and remembered, I have a choice here. Do I choose misery and self-doubt or do I choose Joy? Do I trust my Lord to lead me where my path needs to take me or do I stress about all the little things I don't know? All the way to work the next day I mentally chanted "I'm choosing Joy, I'm choosing Joy, I'm choosing Joy" because let's face it, if
Ashley of Lil Blue Boo
can choose joy in the midst of all she's going through, I certainly can choose joy, too!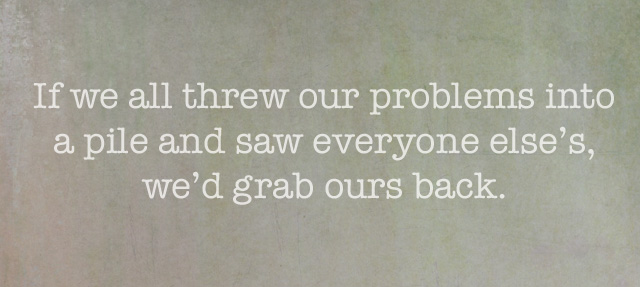 Today---CHOOSE JOY and SPREAD JOY!